Starts in 3 Days, 16 Hours
20th September 2019
The ninth Rugby World Cup will start on the 20th of September 2019!! 🏉
Watch it LIVE from Lord Nelson, Proud Sponsor and Official Home to Gibraltar Rugby
See all the fixtures here: https://www.rugbyworldcup.com/matches
The matches are being played at odd hours because the tournament is in Japan, but that shouldn't stop us from enjoying a good game of rugby and supporting our teams!
Enjoy our 5+1 beer promotion on Guinness, Foster's and San Miguel and our classic Rugby Nations Nachos menu!
Our full menu will also be available throughout the day.
We will be serving free snacks at half time and free shots whenever our favourite teams score first try! 🏴󠁧󠁢󠁥󠁮󠁧󠁿🏴󠁧󠁢󠁷󠁬󠁳󠁿🇮🇪🏴󠁧󠁢󠁳󠁣󠁴󠁿
The Rugby World Cup is contested only once every four years between the top international teams. You cannot miss it!
Reservations on 200 50009 or e-mail lordnelson@huntergroup.gi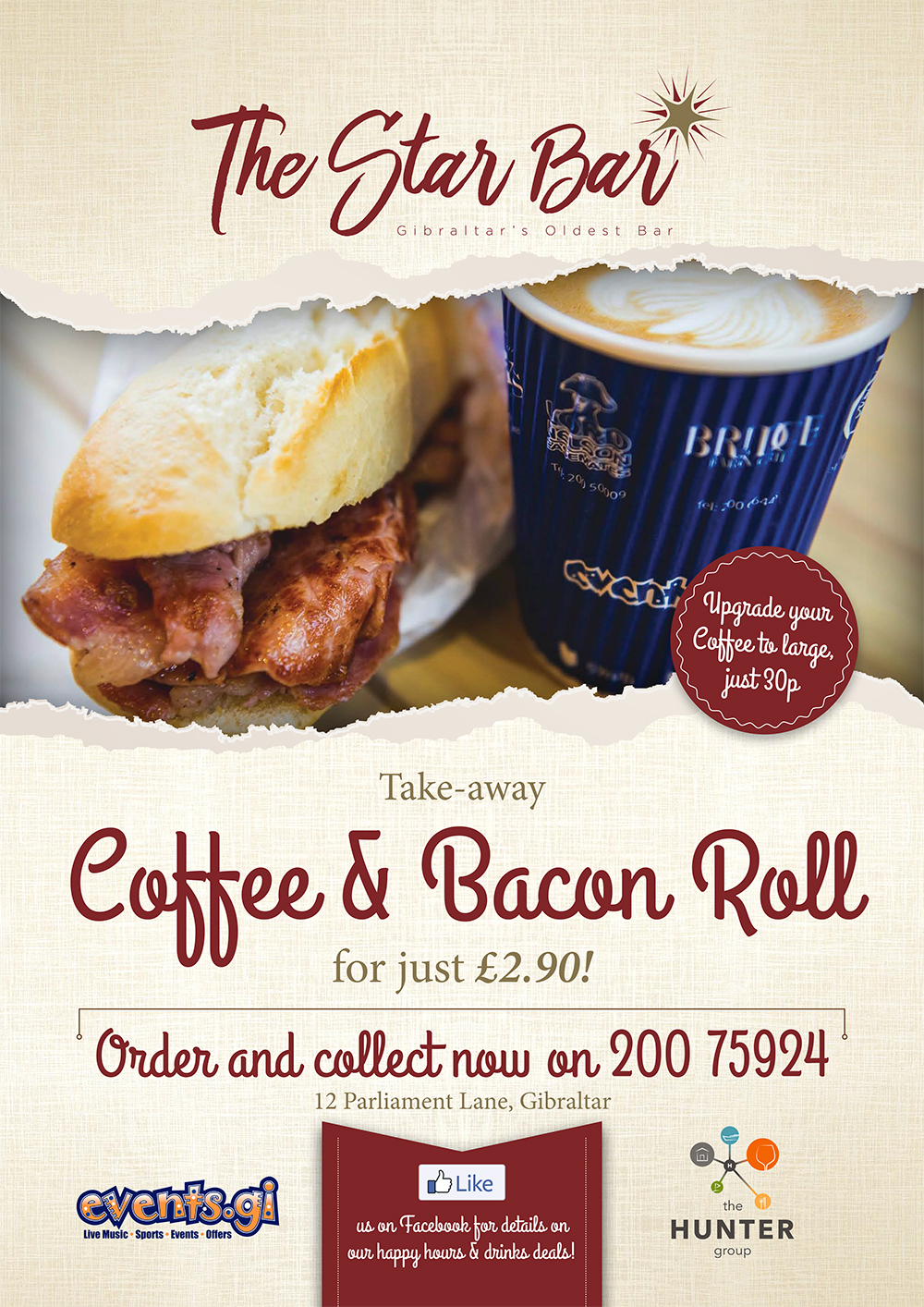 16th September 2019
All Day
Coffee & Roll Deal @ The Star Bar
More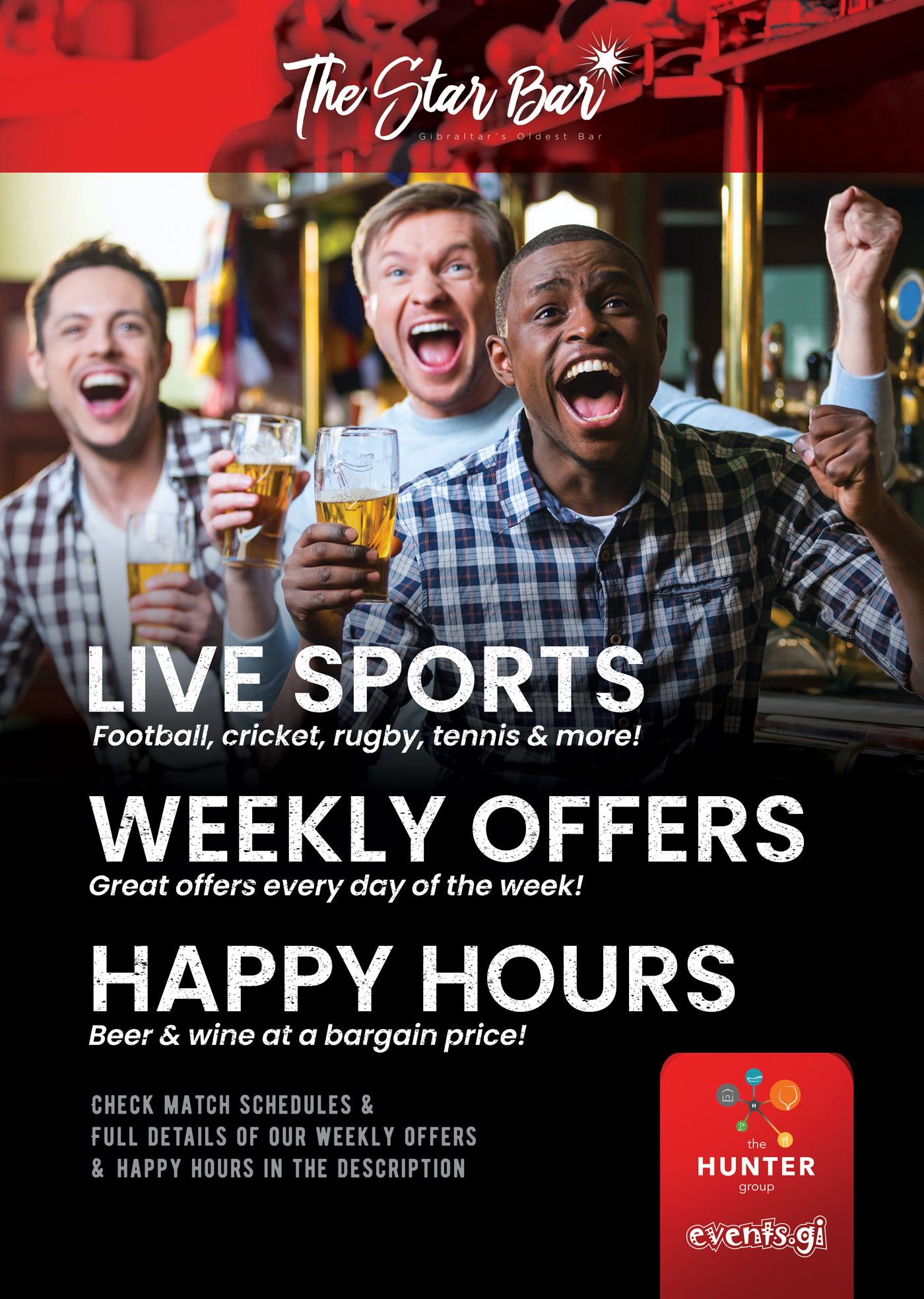 17th September 2019 to 1st January 2020
Great fun every week at the Star Bar! Sports, offers, happy hours & more! See the details below.

ICC Cricket World Cup, see the fixtures here ...
More
5
Weekly offers @ The Star Bar, just off Main Street
Live sports, weekly offers, happy hours & more at the Star Bar
Weekly offers @ Lord Nelson in Casemates

All Day

Coffee & Roll Deal @ The Star Bar

12:00 pm

Sunday Lunch @ Bistro Point
4
Weekly offers @ The Star Bar, just off Main Street
Weekly offers @ Lord Nelson in Casemates
Live sports, weekly offers, happy hours & more at the Star Bar

All Day

Coffee & Roll Deal @ The Star Bar
4
Live sports, weekly offers, happy hours & more at the Star Bar
Weekly offers @ Lord Nelson in Casemates

All Day

Coffee & Roll Deal @ The Star Bar
Weekly offers @ The Star Bar, just off Main Street
4
All Day

Coffee & Roll Deal @ The Star Bar
Live sports, weekly offers, happy hours & more at the Star Bar
Weekly offers @ The Star Bar, just off Main Street
Weekly offers @ Lord Nelson in Casemates
6
All Day

Coffee & Roll Deal @ The Star Bar
Weekly offers @ The Star Bar, just off Main Street
Live sports, weekly offers, happy hours & more at the Star Bar
Weekly offers @ Lord Nelson in Casemates

6:30 pm

Weekly Summer Terrace Barbeque at the Bistro Point

8:00 pm

The Jam Session @ Lord Nelson
5
All Day

Coffee & Roll Deal @ The Star Bar
Weekly offers @ Lord Nelson in Casemates
Weekly offers @ The Star Bar, just off Main Street
Live sports, weekly offers, happy hours & more at the Star Bar

9:00 pm

Tony Watson LIVE at Lord Nelson in Casemates
4
Live sports, weekly offers, happy hours & more at the Star Bar
Weekly offers @ Lord Nelson in Casemates
Weekly offers @ The Star Bar, just off Main Street

All Day

Coffee & Roll Deal @ The Star Bar
5
Weekly offers @ The Star Bar, just off Main Street
Live sports, weekly offers, happy hours & more at the Star Bar

All Day

Coffee & Roll Deal @ The Star Bar
Weekly offers @ Lord Nelson in Casemates

12:00 pm

Sunday Lunch @ Bistro Point
4
All Day

Coffee & Roll Deal @ The Star Bar
Weekly offers @ Lord Nelson in Casemates
Live sports, weekly offers, happy hours & more at the Star Bar
Weekly offers @ The Star Bar, just off Main Street
7
Weekly offers @ Lord Nelson in Casemates
Live sports, weekly offers, happy hours & more at the Star Bar
Weekly offers @ The Star Bar, just off Main Street
National Day at the Lord Nelson in Casemates

All Day

Coffee & Roll Deal @ The Star Bar
National Day at Gibraltar Arms
National Day at the Bridge Bar
4
Weekly offers @ The Star Bar, just off Main Street
Weekly offers @ Lord Nelson in Casemates
Live sports, weekly offers, happy hours & more at the Star Bar

All Day

Coffee & Roll Deal @ The Star Bar
5
Weekly offers @ The Star Bar, just off Main Street
Weekly offers @ Lord Nelson in Casemates

All Day

Coffee & Roll Deal @ The Star Bar
Live sports, weekly offers, happy hours & more at the Star Bar

8:00 pm

The Jam Session @ Lord Nelson
5
Weekly offers @ The Star Bar, just off Main Street
Weekly offers @ Lord Nelson in Casemates

All Day

Coffee & Roll Deal @ The Star Bar
Live sports, weekly offers, happy hours & more at the Star Bar

9:00 pm

Ray Frost LIVE @ Lord Nelson in Casemates
4
All Day

Coffee & Roll Deal @ The Star Bar
Weekly offers @ Lord Nelson in Casemates
Live sports, weekly offers, happy hours & more at the Star Bar
Weekly offers @ The Star Bar, just off Main Street
5
Weekly offers @ The Star Bar, just off Main Street
Live sports, weekly offers, happy hours & more at the Star Bar

All Day

Coffee & Roll Deal @ The Star Bar
Weekly offers @ Lord Nelson in Casemates

12:00 pm

Sunday Lunch @ Bistro Point
5
Weekly offers @ Lord Nelson in Casemates
Weekly offers @ The Star Bar, just off Main Street

All Day

Coffee & Roll Deal @ The Star Bar
Live sports, weekly offers, happy hours & more at the Star Bar

7:00 am

Coffee & Roll Deal @ Gibraltar Arms
3
Live sports, weekly offers, happy hours & more at the Star Bar
Weekly offers @ The Star Bar, just off Main Street
Weekly offers @ Lord Nelson in Casemates
3
Weekly offers @ Lord Nelson in Casemates
Weekly offers @ The Star Bar, just off Main Street
Live sports, weekly offers, happy hours & more at the Star Bar
4
Weekly offers @ Lord Nelson in Casemates
Live sports, weekly offers, happy hours & more at the Star Bar
Weekly offers @ The Star Bar, just off Main Street

8:00 pm

The Jam Session @ Lord Nelson
4
Weekly offers @ Lord Nelson in Casemates
Live sports, weekly offers, happy hours & more at the Star Bar
Weekly offers @ The Star Bar, just off Main Street
Rugby World Cup 2019 at Lord Nelson in Casemates Square
3
Weekly offers @ The Star Bar, just off Main Street
Weekly offers @ Lord Nelson in Casemates
Live sports, weekly offers, happy hours & more at the Star Bar
4
Live sports, weekly offers, happy hours & more at the Star Bar
Weekly offers @ The Star Bar, just off Main Street
Weekly offers @ Lord Nelson in Casemates

12:00 pm

Sunday Lunch @ Bistro Point
3
Live sports, weekly offers, happy hours & more at the Star Bar
Weekly offers @ Lord Nelson in Casemates
Weekly offers @ The Star Bar, just off Main Street
3
Weekly offers @ Lord Nelson in Casemates
Live sports, weekly offers, happy hours & more at the Star Bar
Weekly offers @ The Star Bar, just off Main Street
3
Weekly offers @ Lord Nelson in Casemates
Weekly offers @ The Star Bar, just off Main Street
Live sports, weekly offers, happy hours & more at the Star Bar
4
Live sports, weekly offers, happy hours & more at the Star Bar
Weekly offers @ Lord Nelson in Casemates
Weekly offers @ The Star Bar, just off Main Street

8:00 pm

The Jam Session @ Lord Nelson
5
Weekly offers @ The Star Bar, just off Main Street
Live sports, weekly offers, happy hours & more at the Star Bar
Weekly offers @ Lord Nelson in Casemates

7:00 pm

Totally Tropical! party at Bistro Point

9:00 pm

Crimson Clover + Dead City Radio + Jesse Sampere LIVE at Lord Nelson
3
Weekly offers @ The Star Bar, just off Main Street
Live sports, weekly offers, happy hours & more at the Star Bar
Weekly offers @ Lord Nelson in Casemates
4
Weekly offers @ Lord Nelson in Casemates
Weekly offers @ The Star Bar, just off Main Street
Live sports, weekly offers, happy hours & more at the Star Bar

12:00 pm

Sunday Lunch @ Bistro Point
3
Weekly offers @ Lord Nelson in Casemates
Weekly offers @ The Star Bar, just off Main Street
Live sports, weekly offers, happy hours & more at the Star Bar