Head on down to O'Reilly's on Friday 14th June for some LIVE music courtesy of Ray Frost and Gema Cabanas, starting at 5:00 PM!
Live music every Friday!
Reservations 200 67888 or e-mail oreillys@huntergroup.gi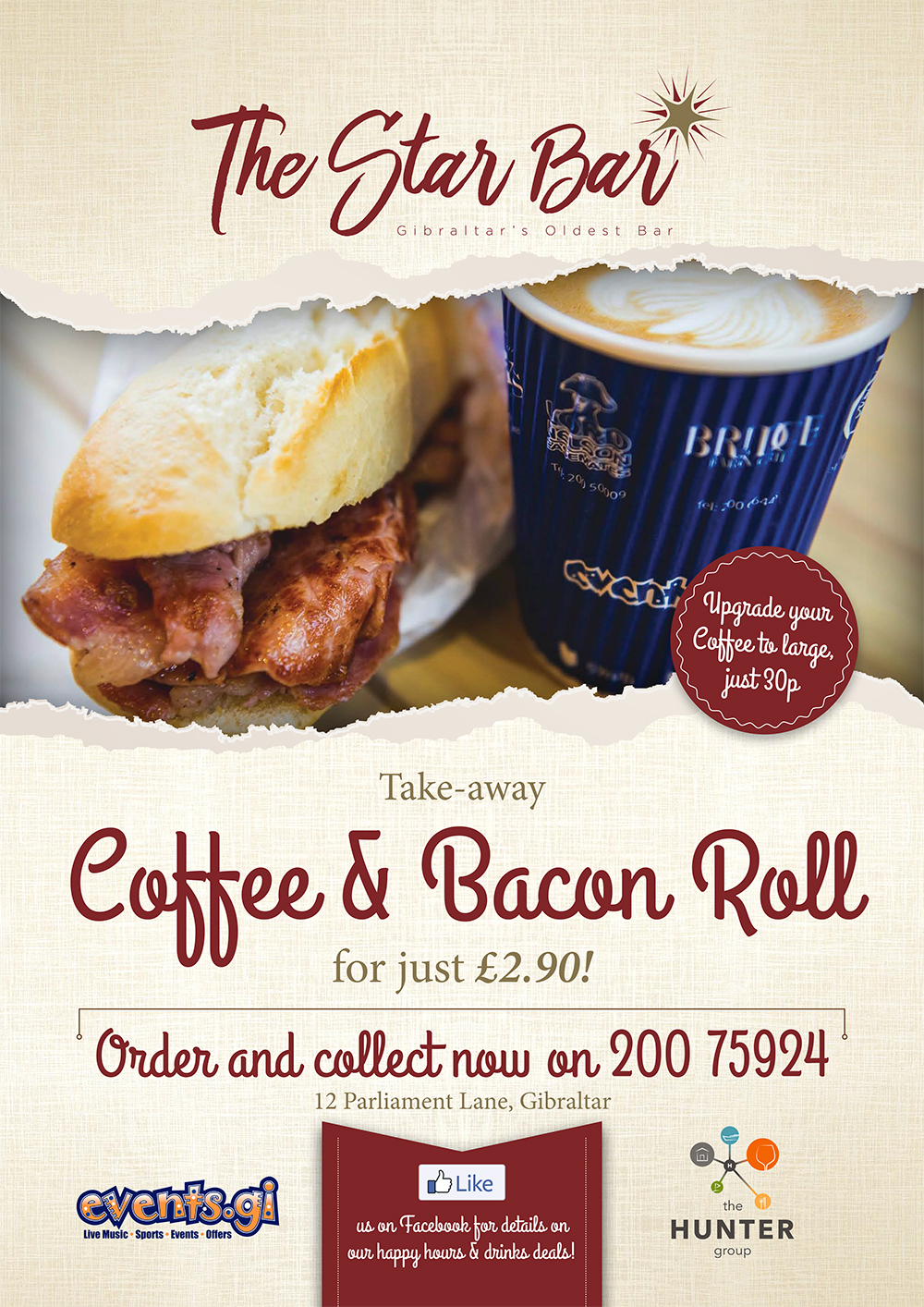 16th June 2019
All Day
Coffee & Roll Deal @ The Star Bar
More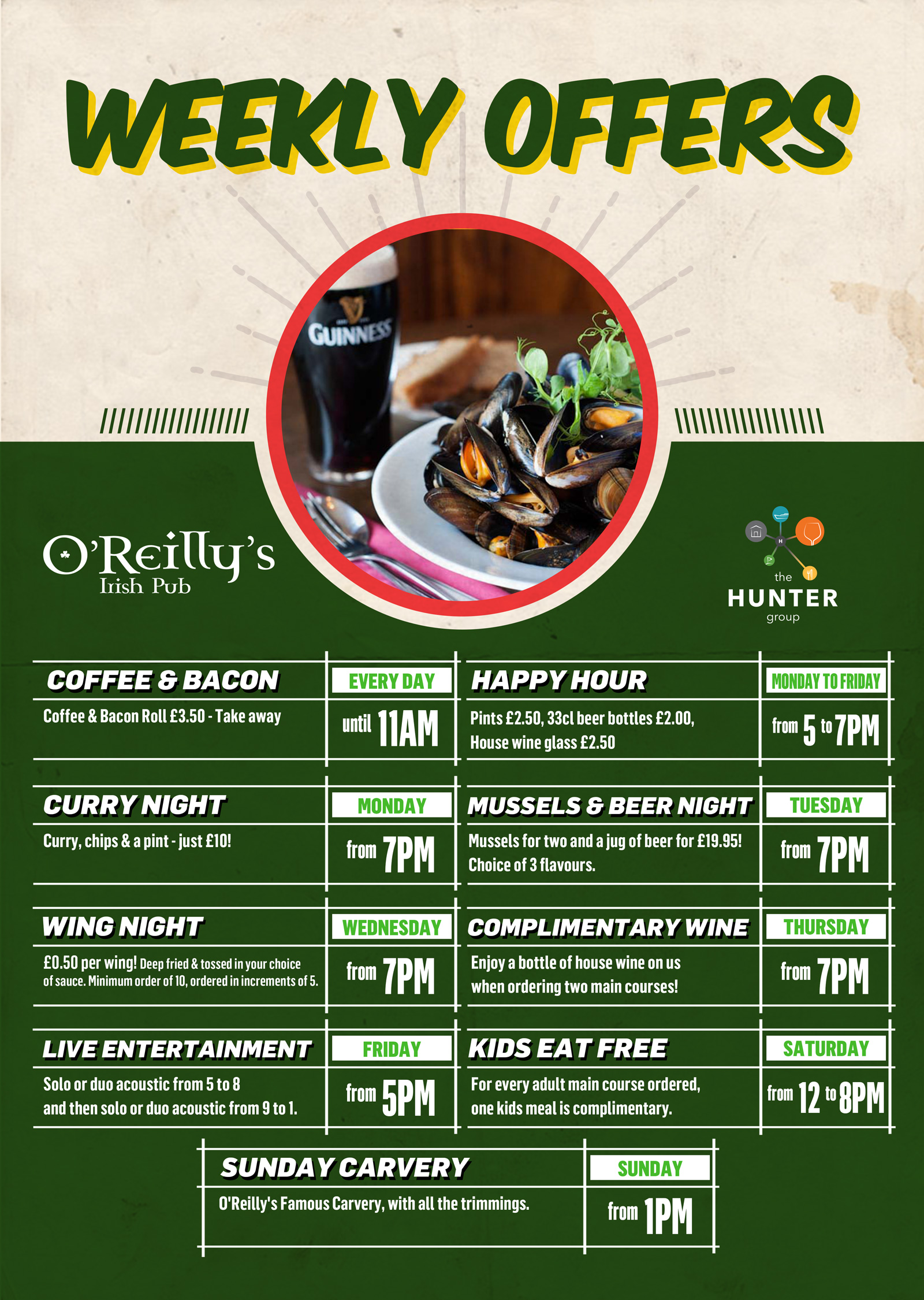 17th June 2019 to 1st January 2020
O'Reilly's Irish Pub has you covered for the entire week with great offers!

We also have a Happy Hour every day, see details here: https://www.fa ...
More
1
All Day

Coffee & Roll Deal @ The Star Bar
2
All Day

Coffee & Roll Deal @ The Star Bar

12:00 pm

Sunday Lunch @ Bistro Point
1
All Day

Coffee & Roll Deal @ The Star Bar
1
All Day

Coffee & Roll Deal @ The Star Bar
1
All Day

Coffee & Roll Deal @ The Star Bar
2
All Day

Coffee & Roll Deal @ The Star Bar

8:00 pm

The Jam Session @ Lord Nelson
1
All Day

Coffee & Roll Deal @ The Star Bar
1
All Day

Coffee & Roll Deal @ The Star Bar
5
Weekly offers @ The Star Bar, just off Main Street

All Day

Coffee & Roll Deal @ The Star Bar
Weekly offers @ O'Reilly's in Ocean Village
Weekly offers @ Lord Nelson in Casemates

12:00 pm

Sunday Lunch @ Bistro Point
4
Weekly offers @ O'Reilly's in Ocean Village

All Day

Coffee & Roll Deal @ The Star Bar
Weekly offers @ The Star Bar, just off Main Street
Weekly offers @ Lord Nelson in Casemates
4
Weekly offers @ The Star Bar, just off Main Street
Weekly offers @ O'Reilly's in Ocean Village
Weekly offers @ Lord Nelson in Casemates

All Day

Coffee & Roll Deal @ The Star Bar
4
Weekly offers @ Lord Nelson in Casemates
Weekly offers @ The Star Bar, just off Main Street
Weekly offers @ O'Reilly's in Ocean Village

All Day

Coffee & Roll Deal @ The Star Bar
5
Weekly offers @ O'Reilly's in Ocean Village

All Day

Coffee & Roll Deal @ The Star Bar
Weekly offers @ The Star Bar, just off Main Street
Weekly offers @ Lord Nelson in Casemates

8:00 pm

The Jam Session @ Lord Nelson
7
Weekly offers @ The Star Bar, just off Main Street
Weekly offers @ O'Reilly's in Ocean Village

All Day

Coffee & Roll Deal @ The Star Bar
Weekly offers @ Lord Nelson in Casemates

5:00 pm

Ray Frost & Gema Cabanas duo LIVE @ O'Reilly's in Ocean Village

9:00 pm

Acoustic Maniacs LIVE @ Lord Nelson in Casemates

9:00 pm

Darren Paul LIVE @ O'Reilly's in Ocean Village
4
Weekly offers @ Lord Nelson in Casemates

All Day

Coffee & Roll Deal @ The Star Bar
Weekly offers @ O'Reilly's in Ocean Village
Weekly offers @ The Star Bar, just off Main Street
6
Weekly offers @ O'Reilly's in Ocean Village
Weekly offers @ The Star Bar, just off Main Street
Weekly offers @ Lord Nelson in Casemates

All Day

Coffee & Roll Deal @ The Star Bar

7:00 am

Coffee & Roll Deal @ Gibraltar Arms

12:00 pm

Sunday Lunch @ Bistro Point
3
Weekly offers @ Lord Nelson in Casemates
Weekly offers @ O'Reilly's in Ocean Village
Weekly offers @ The Star Bar, just off Main Street
3
Weekly offers @ O'Reilly's in Ocean Village
Weekly offers @ The Star Bar, just off Main Street
Weekly offers @ Lord Nelson in Casemates
3
Weekly offers @ Lord Nelson in Casemates
Weekly offers @ O'Reilly's in Ocean Village
Weekly offers @ The Star Bar, just off Main Street
5
Weekly offers @ The Star Bar, just off Main Street
Weekly offers @ O'Reilly's in Ocean Village
Weekly offers @ Lord Nelson in Casemates

7:00 pm

Terrace Sunset Cocktail Party @ Bistro Point

8:00 pm

The Jam Session @ Lord Nelson
6
Weekly offers @ The Star Bar, just off Main Street
Weekly offers @ O'Reilly's in Ocean Village
Weekly offers @ Lord Nelson in Casemates

5:00 pm

The Layla Rose Band LIVE @ O'Reilly's in Ocean Village

9:00 pm

Alice Reay LIVE @ Lord Nelson in Casemates

9:00 pm

Brad James LIVE @ O'Reilly's in Ocean Village
3
Weekly offers @ The Star Bar, just off Main Street
Weekly offers @ Lord Nelson in Casemates
Weekly offers @ O'Reilly's in Ocean Village
4
Weekly offers @ The Star Bar, just off Main Street
Weekly offers @ O'Reilly's in Ocean Village
Weekly offers @ Lord Nelson in Casemates

12:00 pm

Sunday Lunch @ Bistro Point
3
Weekly offers @ The Star Bar, just off Main Street
Weekly offers @ O'Reilly's in Ocean Village
Weekly offers @ Lord Nelson in Casemates
3
Weekly offers @ O'Reilly's in Ocean Village
Weekly offers @ The Star Bar, just off Main Street
Weekly offers @ Lord Nelson in Casemates
3
Weekly offers @ The Star Bar, just off Main Street
Weekly offers @ O'Reilly's in Ocean Village
Weekly offers @ Lord Nelson in Casemates
4
Weekly offers @ The Star Bar, just off Main Street
Weekly offers @ Lord Nelson in Casemates
Weekly offers @ O'Reilly's in Ocean Village

8:00 pm

The Jam Session @ Lord Nelson
6
Weekly offers @ Lord Nelson in Casemates
Weekly offers @ The Star Bar, just off Main Street
Weekly offers @ O'Reilly's in Ocean Village

5:00 pm

Gerry & Jeremy Acoustic Duo LIVE @ O'Reilly's in Ocean Village

9:00 pm

Tony Watson LIVE @ O'Reilly's in Ocean Village

9:00 pm

Raul Benitez LIVE @ Lord Nelson in Casemates
3
Weekly offers @ Lord Nelson in Casemates
Weekly offers @ The Star Bar, just off Main Street
Weekly offers @ O'Reilly's in Ocean Village
4
Weekly offers @ The Star Bar, just off Main Street
Weekly offers @ Lord Nelson in Casemates
Weekly offers @ O'Reilly's in Ocean Village

12:00 pm

Sunday Lunch @ Bistro Point