Are you ready for National Day!? 🇬🇮🎉🎉
Start your day at the Lordy with a delicious breakfast from 9am and then head for the celebrations in Casemates Square!
Feel like showing off your singing skills to your friends? Our karaoke session starts at 3PM!
Gib's own Zooney & Friends will take the stage from 5:30PM creating that amazing atmosphere they are known for!
You can also enjoy our full menu throughout the day
Lord Nelson is located in the middle of it all in Casemates Square, at a perfect distance if you want to take a break, relax and refuel!
Reservations on 200 50009 or e-mail lordnelson@huntergroup.gi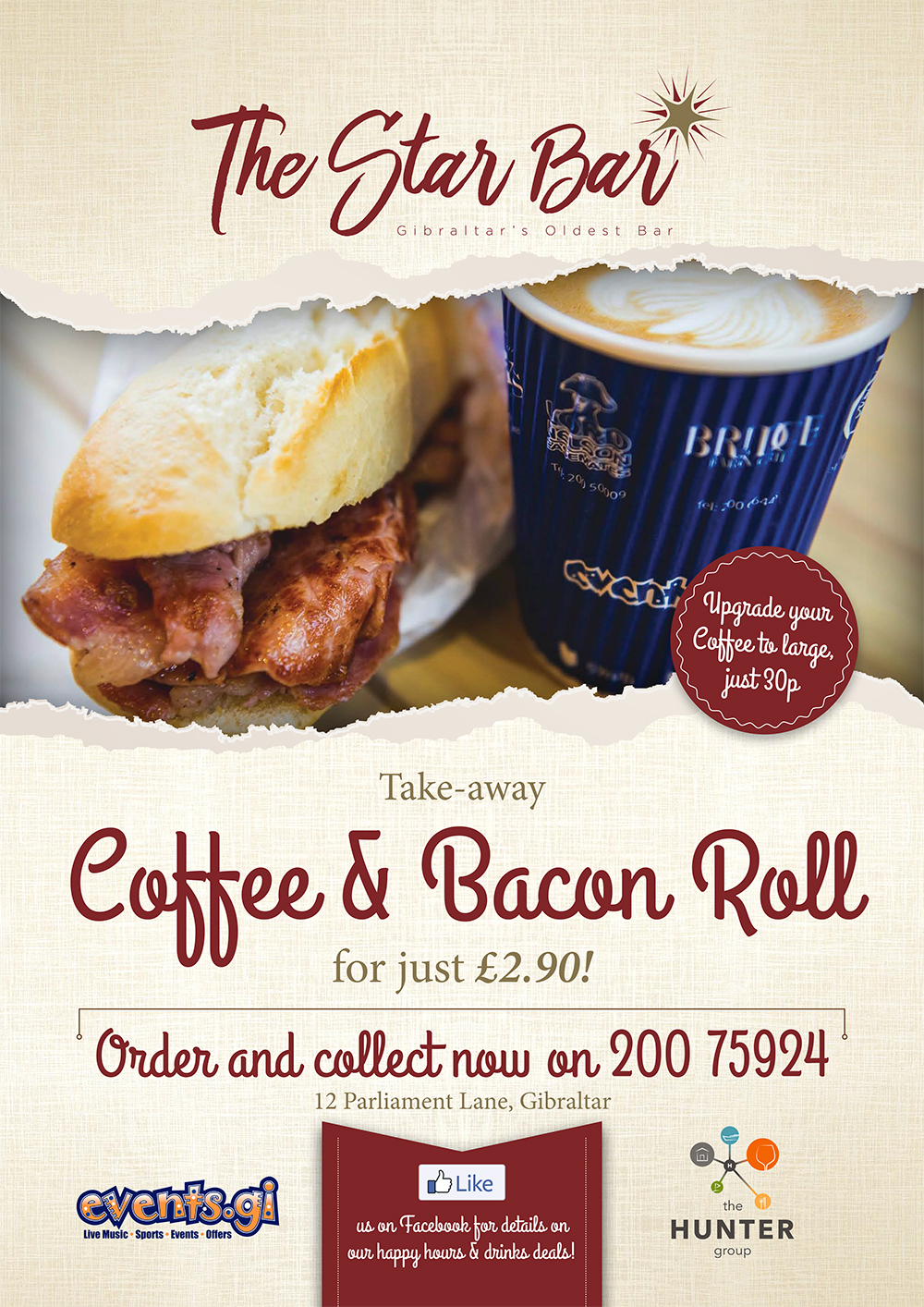 16th September 2019
All Day
Coffee & Roll Deal @ The Star Bar
More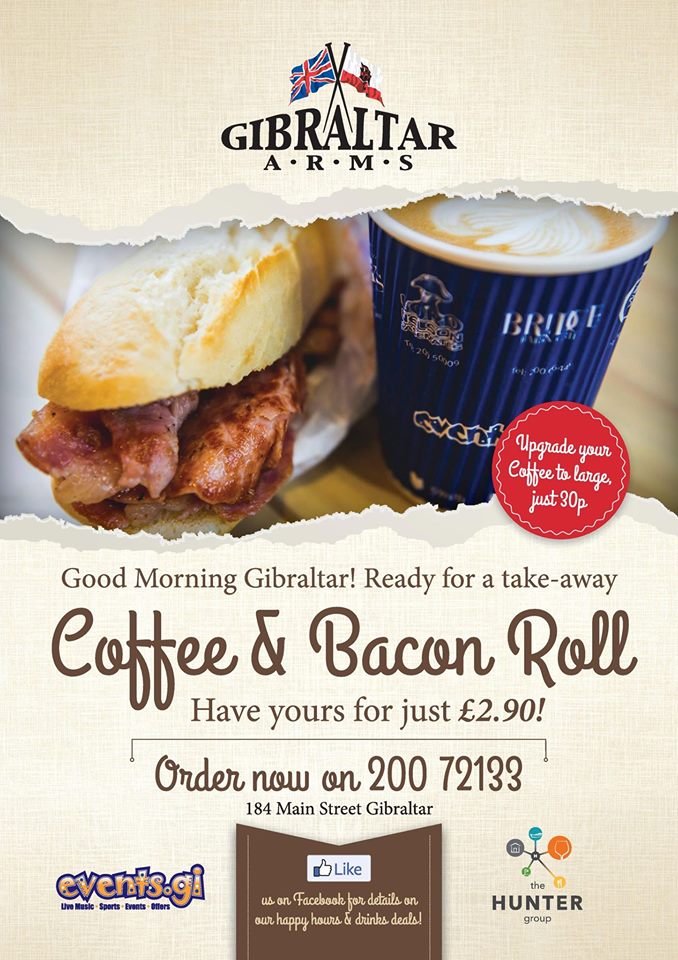 16th September 2019
7:00 am / 12:00 pm
Coffee & Roll Deal @ Gibraltar Arms
More
5
Weekly offers @ The Star Bar, just off Main Street
Live sports, weekly offers, happy hours & more at the Star Bar
Weekly offers @ Lord Nelson in Casemates

All Day

Coffee & Roll Deal @ The Star Bar

12:00 pm

Sunday Lunch @ Bistro Point
4
Weekly offers @ The Star Bar, just off Main Street
Weekly offers @ Lord Nelson in Casemates
Live sports, weekly offers, happy hours & more at the Star Bar

All Day

Coffee & Roll Deal @ The Star Bar
4
Live sports, weekly offers, happy hours & more at the Star Bar
Weekly offers @ Lord Nelson in Casemates

All Day

Coffee & Roll Deal @ The Star Bar
Weekly offers @ The Star Bar, just off Main Street
4
All Day

Coffee & Roll Deal @ The Star Bar
Live sports, weekly offers, happy hours & more at the Star Bar
Weekly offers @ The Star Bar, just off Main Street
Weekly offers @ Lord Nelson in Casemates
6
All Day

Coffee & Roll Deal @ The Star Bar
Weekly offers @ The Star Bar, just off Main Street
Live sports, weekly offers, happy hours & more at the Star Bar
Weekly offers @ Lord Nelson in Casemates

6:30 pm

Weekly Summer Terrace Barbeque at the Bistro Point

8:00 pm

The Jam Session @ Lord Nelson
5
All Day

Coffee & Roll Deal @ The Star Bar
Weekly offers @ Lord Nelson in Casemates
Weekly offers @ The Star Bar, just off Main Street
Live sports, weekly offers, happy hours & more at the Star Bar

9:00 pm

Tony Watson LIVE at Lord Nelson in Casemates
4
Live sports, weekly offers, happy hours & more at the Star Bar
Weekly offers @ Lord Nelson in Casemates
Weekly offers @ The Star Bar, just off Main Street

All Day

Coffee & Roll Deal @ The Star Bar
5
Weekly offers @ The Star Bar, just off Main Street
Live sports, weekly offers, happy hours & more at the Star Bar

All Day

Coffee & Roll Deal @ The Star Bar
Weekly offers @ Lord Nelson in Casemates

12:00 pm

Sunday Lunch @ Bistro Point
4
All Day

Coffee & Roll Deal @ The Star Bar
Weekly offers @ Lord Nelson in Casemates
Live sports, weekly offers, happy hours & more at the Star Bar
Weekly offers @ The Star Bar, just off Main Street
7
Weekly offers @ Lord Nelson in Casemates
Live sports, weekly offers, happy hours & more at the Star Bar
Weekly offers @ The Star Bar, just off Main Street
National Day at the Lord Nelson in Casemates

All Day

Coffee & Roll Deal @ The Star Bar
National Day at Gibraltar Arms
National Day at the Bridge Bar
4
Weekly offers @ The Star Bar, just off Main Street
Weekly offers @ Lord Nelson in Casemates
Live sports, weekly offers, happy hours & more at the Star Bar

All Day

Coffee & Roll Deal @ The Star Bar
5
Weekly offers @ The Star Bar, just off Main Street
Weekly offers @ Lord Nelson in Casemates

All Day

Coffee & Roll Deal @ The Star Bar
Live sports, weekly offers, happy hours & more at the Star Bar

8:00 pm

The Jam Session @ Lord Nelson
5
Weekly offers @ The Star Bar, just off Main Street
Weekly offers @ Lord Nelson in Casemates

All Day

Coffee & Roll Deal @ The Star Bar
Live sports, weekly offers, happy hours & more at the Star Bar

9:00 pm

Ray Frost LIVE @ Lord Nelson in Casemates
4
All Day

Coffee & Roll Deal @ The Star Bar
Weekly offers @ Lord Nelson in Casemates
Live sports, weekly offers, happy hours & more at the Star Bar
Weekly offers @ The Star Bar, just off Main Street
5
Weekly offers @ The Star Bar, just off Main Street
Live sports, weekly offers, happy hours & more at the Star Bar

All Day

Coffee & Roll Deal @ The Star Bar
Weekly offers @ Lord Nelson in Casemates

12:00 pm

Sunday Lunch @ Bistro Point
5
Weekly offers @ Lord Nelson in Casemates
Weekly offers @ The Star Bar, just off Main Street

All Day

Coffee & Roll Deal @ The Star Bar
Live sports, weekly offers, happy hours & more at the Star Bar

7:00 am

Coffee & Roll Deal @ Gibraltar Arms
3
Live sports, weekly offers, happy hours & more at the Star Bar
Weekly offers @ The Star Bar, just off Main Street
Weekly offers @ Lord Nelson in Casemates
3
Weekly offers @ Lord Nelson in Casemates
Weekly offers @ The Star Bar, just off Main Street
Live sports, weekly offers, happy hours & more at the Star Bar
4
Weekly offers @ Lord Nelson in Casemates
Live sports, weekly offers, happy hours & more at the Star Bar
Weekly offers @ The Star Bar, just off Main Street

8:00 pm

The Jam Session @ Lord Nelson
4
Weekly offers @ Lord Nelson in Casemates
Live sports, weekly offers, happy hours & more at the Star Bar
Weekly offers @ The Star Bar, just off Main Street
Rugby World Cup 2019 at Lord Nelson in Casemates Square
3
Weekly offers @ The Star Bar, just off Main Street
Weekly offers @ Lord Nelson in Casemates
Live sports, weekly offers, happy hours & more at the Star Bar
4
Live sports, weekly offers, happy hours & more at the Star Bar
Weekly offers @ The Star Bar, just off Main Street
Weekly offers @ Lord Nelson in Casemates

12:00 pm

Sunday Lunch @ Bistro Point
3
Live sports, weekly offers, happy hours & more at the Star Bar
Weekly offers @ Lord Nelson in Casemates
Weekly offers @ The Star Bar, just off Main Street
3
Weekly offers @ Lord Nelson in Casemates
Live sports, weekly offers, happy hours & more at the Star Bar
Weekly offers @ The Star Bar, just off Main Street
3
Weekly offers @ Lord Nelson in Casemates
Weekly offers @ The Star Bar, just off Main Street
Live sports, weekly offers, happy hours & more at the Star Bar
4
Live sports, weekly offers, happy hours & more at the Star Bar
Weekly offers @ Lord Nelson in Casemates
Weekly offers @ The Star Bar, just off Main Street

8:00 pm

The Jam Session @ Lord Nelson
5
Weekly offers @ The Star Bar, just off Main Street
Live sports, weekly offers, happy hours & more at the Star Bar
Weekly offers @ Lord Nelson in Casemates

7:00 pm

Totally Tropical! party at Bistro Point

9:00 pm

Crimson Clover + Dead City Radio + Jesse Sampere LIVE at Lord Nelson
3
Weekly offers @ The Star Bar, just off Main Street
Live sports, weekly offers, happy hours & more at the Star Bar
Weekly offers @ Lord Nelson in Casemates
4
Weekly offers @ Lord Nelson in Casemates
Weekly offers @ The Star Bar, just off Main Street
Live sports, weekly offers, happy hours & more at the Star Bar

12:00 pm

Sunday Lunch @ Bistro Point
3
Weekly offers @ Lord Nelson in Casemates
Weekly offers @ The Star Bar, just off Main Street
Live sports, weekly offers, happy hours & more at the Star Bar