Starts in 10 Days, 3 Hours
26th July 2019 8:00 pm
In the 1960s, Frank Sinatra and Dean Martin defined their era like no other entertainers ever had, and they remain cultural icons to this day.
We are delighted to announce a truly special Tribute Evening for these two legends, starring Martin Joseph as Frank Sinatra and Dave Lee as Dean Martin, on Friday the 26th of July!
Savour our carefully-designed American 1950s themed menu and enjoy some of the greatest hits of this legendary duo!
Reservations on bistropoint@huntergroup.gi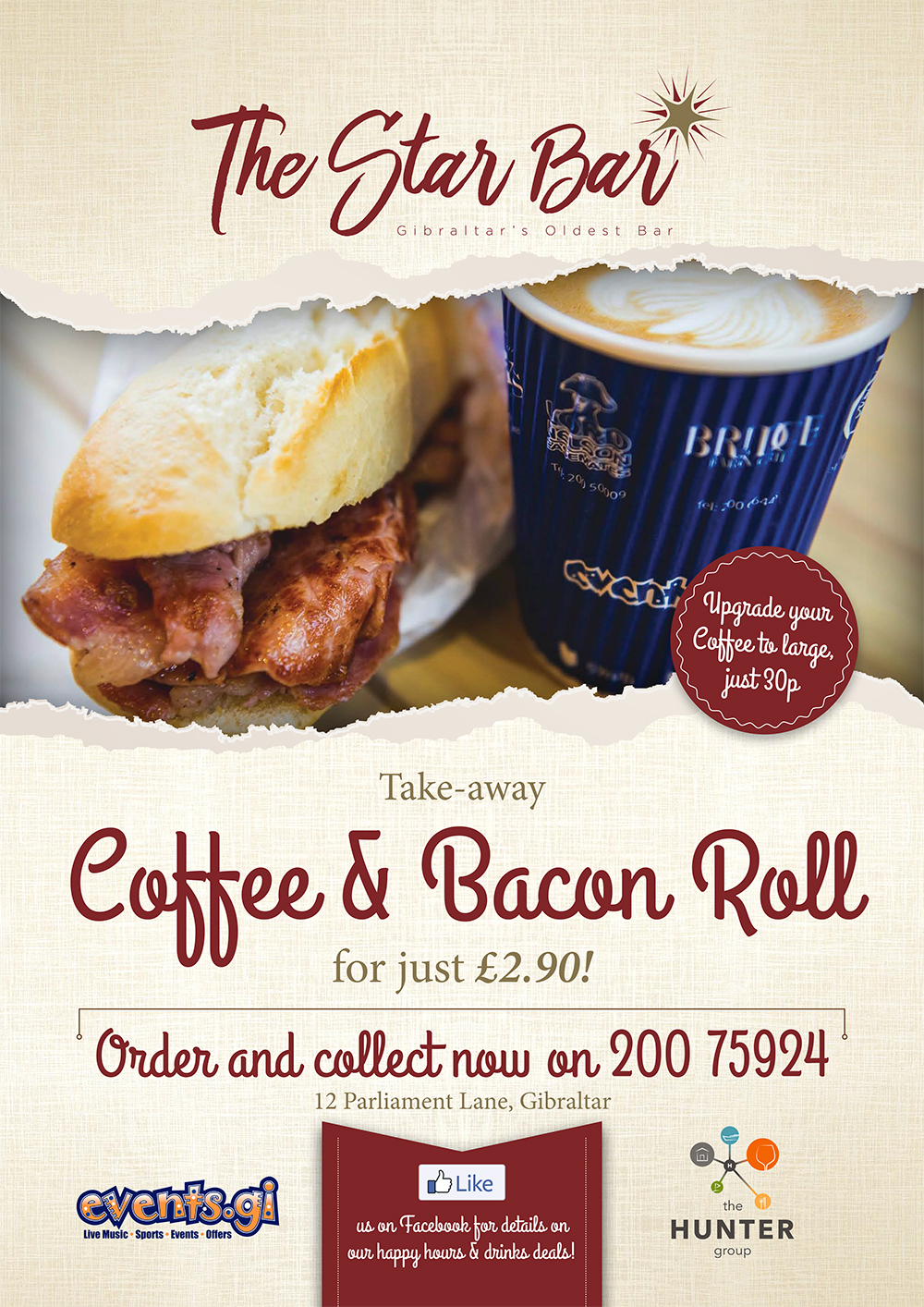 16th July 2019
All Day
Coffee & Roll Deal @ The Star Bar
More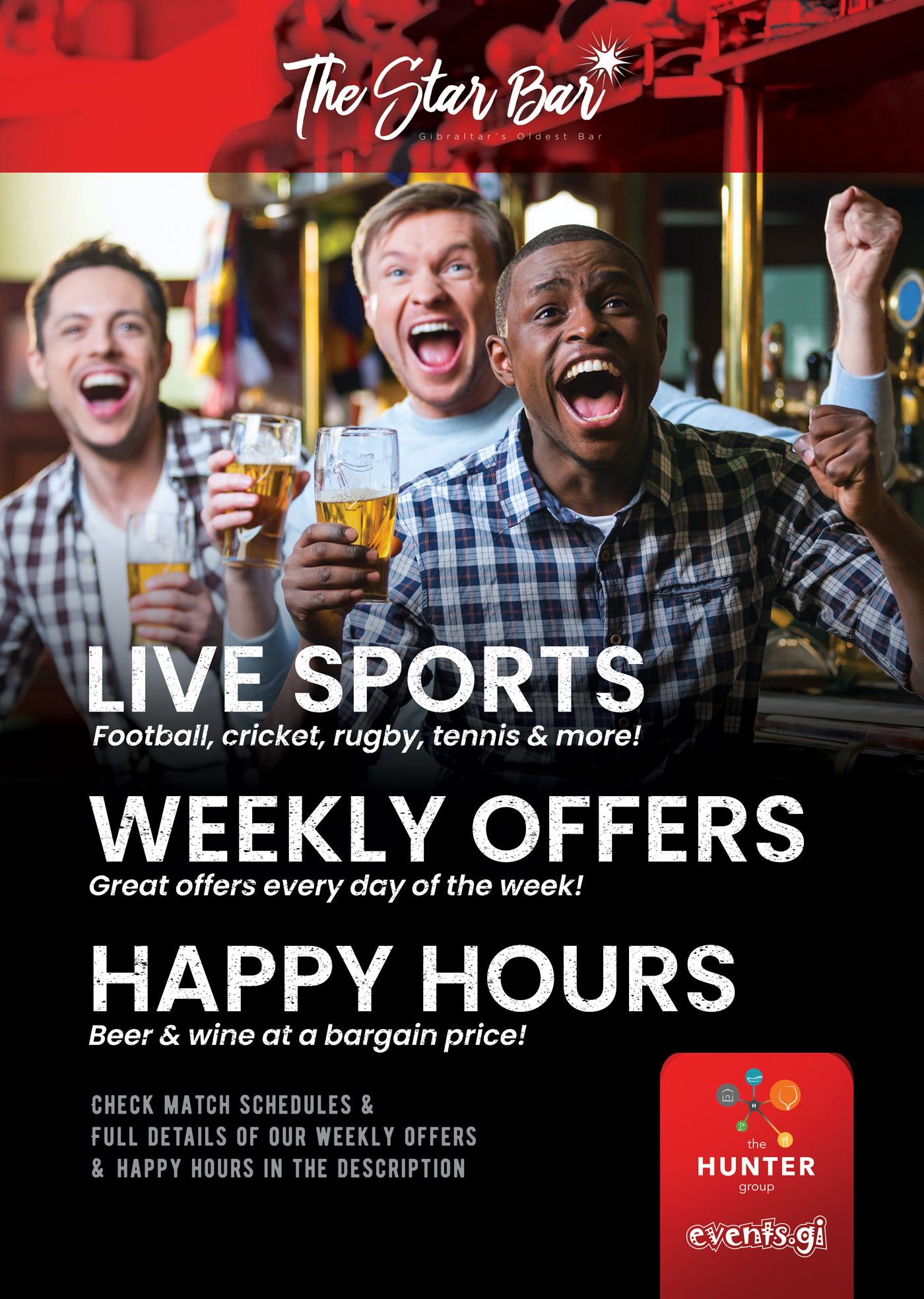 17th July 2019 to 1st January 2020
Great fun every week at the Star Bar! Sports, offers, happy hours & more! See the details below.

ICC Cricket World Cup, see the fixtures here ...
More
4
Live sports, weekly offers, happy hours & more at the Star Bar

All Day

Coffee & Roll Deal @ The Star Bar
Weekly offers @ The Star Bar, just off Main Street
Weekly offers @ Lord Nelson in Casemates
4
Weekly offers @ The Star Bar, just off Main Street
Weekly offers @ Lord Nelson in Casemates
Live sports, weekly offers, happy hours & more at the Star Bar

All Day

Coffee & Roll Deal @ The Star Bar
4
Weekly offers @ The Star Bar, just off Main Street

All Day

Coffee & Roll Deal @ The Star Bar
Weekly offers @ Lord Nelson in Casemates
Live sports, weekly offers, happy hours & more at the Star Bar
5
Weekly offers @ Lord Nelson in Casemates
Weekly offers @ The Star Bar, just off Main Street

All Day

Coffee & Roll Deal @ The Star Bar
Live sports, weekly offers, happy hours & more at the Star Bar

8:00 pm

The Jam Session @ Lord Nelson
5
Weekly offers @ Lord Nelson in Casemates
Live sports, weekly offers, happy hours & more at the Star Bar

All Day

Coffee & Roll Deal @ The Star Bar
Weekly offers @ The Star Bar, just off Main Street

9:00 pm

Brad James LIVE @ Lord Nelson in Casemates
4
Weekly offers @ The Star Bar, just off Main Street
Live sports, weekly offers, happy hours & more at the Star Bar
Weekly offers @ Lord Nelson in Casemates

All Day

Coffee & Roll Deal @ The Star Bar
5
Live sports, weekly offers, happy hours & more at the Star Bar
Weekly offers @ Lord Nelson in Casemates
Weekly offers @ The Star Bar, just off Main Street

All Day

Coffee & Roll Deal @ The Star Bar

12:00 pm

Sunday Lunch @ Bistro Point
4
Live sports, weekly offers, happy hours & more at the Star Bar
Weekly offers @ The Star Bar, just off Main Street

All Day

Coffee & Roll Deal @ The Star Bar
Weekly offers @ Lord Nelson in Casemates
4
All Day

Coffee & Roll Deal @ The Star Bar
Live sports, weekly offers, happy hours & more at the Star Bar
Weekly offers @ The Star Bar, just off Main Street
Weekly offers @ Lord Nelson in Casemates
4
Weekly offers @ Lord Nelson in Casemates

All Day

Coffee & Roll Deal @ The Star Bar
Weekly offers @ The Star Bar, just off Main Street
Live sports, weekly offers, happy hours & more at the Star Bar
5
Live sports, weekly offers, happy hours & more at the Star Bar
Weekly offers @ The Star Bar, just off Main Street
Weekly offers @ Lord Nelson in Casemates

All Day

Coffee & Roll Deal @ The Star Bar

8:00 pm

The Jam Session @ Lord Nelson
5
Live sports, weekly offers, happy hours & more at the Star Bar

All Day

Coffee & Roll Deal @ The Star Bar
Weekly offers @ Lord Nelson in Casemates
Weekly offers @ The Star Bar, just off Main Street

8:00 pm

Steve Hughes LIVE @ Lord Nelson in Casemates
4
All Day

Coffee & Roll Deal @ The Star Bar
Live sports, weekly offers, happy hours & more at the Star Bar
Weekly offers @ The Star Bar, just off Main Street
Weekly offers @ Lord Nelson in Casemates
5
All Day

Coffee & Roll Deal @ The Star Bar
Weekly offers @ Lord Nelson in Casemates
Live sports, weekly offers, happy hours & more at the Star Bar
Weekly offers @ The Star Bar, just off Main Street

12:00 pm

Sunday Lunch @ Bistro Point
4
Weekly offers @ Lord Nelson in Casemates
Live sports, weekly offers, happy hours & more at the Star Bar
Weekly offers @ The Star Bar, just off Main Street

All Day

Coffee & Roll Deal @ The Star Bar
5
Weekly offers @ The Star Bar, just off Main Street

All Day

Coffee & Roll Deal @ The Star Bar
Live sports, weekly offers, happy hours & more at the Star Bar
Weekly offers @ Lord Nelson in Casemates

7:00 am

Coffee & Roll Deal @ Gibraltar Arms
3
Live sports, weekly offers, happy hours & more at the Star Bar
Weekly offers @ Lord Nelson in Casemates
Weekly offers @ The Star Bar, just off Main Street
5
Live sports, weekly offers, happy hours & more at the Star Bar
Weekly offers @ Lord Nelson in Casemates
Weekly offers @ The Star Bar, just off Main Street

6:30 pm

Weekly Summer Terrace Barbeque at the Bistro Point

8:00 pm

The Jam Session @ Lord Nelson
4
Weekly offers @ Lord Nelson in Casemates
Weekly offers @ The Star Bar, just off Main Street
Live sports, weekly offers, happy hours & more at the Star Bar

8:00 pm

Ray Frost LIVE @ Lord Nelson in Casemates
3
Live sports, weekly offers, happy hours & more at the Star Bar
Weekly offers @ Lord Nelson in Casemates
Weekly offers @ The Star Bar, just off Main Street
4
Live sports, weekly offers, happy hours & more at the Star Bar
Weekly offers @ The Star Bar, just off Main Street
Weekly offers @ Lord Nelson in Casemates

12:00 pm

Sunday Lunch @ Bistro Point
3
Live sports, weekly offers, happy hours & more at the Star Bar
Weekly offers @ The Star Bar, just off Main Street
Weekly offers @ Lord Nelson in Casemates
3
Weekly offers @ The Star Bar, just off Main Street
Live sports, weekly offers, happy hours & more at the Star Bar
Weekly offers @ Lord Nelson in Casemates
3
Weekly offers @ The Star Bar, just off Main Street
Live sports, weekly offers, happy hours & more at the Star Bar
Weekly offers @ Lord Nelson in Casemates
5
Weekly offers @ The Star Bar, just off Main Street
Weekly offers @ Lord Nelson in Casemates
Live sports, weekly offers, happy hours & more at the Star Bar

6:30 pm

Weekly Summer Terrace Barbeque at the Bistro Point

8:00 pm

The Jam Session @ Lord Nelson
6
Sit for Calpe House at the Bistro Point!
Weekly offers @ Lord Nelson in Casemates
Live sports, weekly offers, happy hours & more at the Star Bar
Weekly offers @ The Star Bar, just off Main Street

8:00 pm

Frank Sinatra & Dean Martin Tribute Evening @ Bistro Point

8:00 pm

Alice Reay LIVE @ Lord Nelson in Casemates
4
Sit for Calpe House at the Bistro Point!
Weekly offers @ Lord Nelson in Casemates
Weekly offers @ The Star Bar, just off Main Street
Live sports, weekly offers, happy hours & more at the Star Bar
5
Sit for Calpe House at the Bistro Point!
Weekly offers @ Lord Nelson in Casemates
Live sports, weekly offers, happy hours & more at the Star Bar
Weekly offers @ The Star Bar, just off Main Street

12:00 pm

Sunday Lunch @ Bistro Point
4
Weekly offers @ The Star Bar, just off Main Street
Weekly offers @ Lord Nelson in Casemates
Sit for Calpe House at the Bistro Point!
Live sports, weekly offers, happy hours & more at the Star Bar
4
Sit for Calpe House at the Bistro Point!
Live sports, weekly offers, happy hours & more at the Star Bar
Weekly offers @ Lord Nelson in Casemates
Weekly offers @ The Star Bar, just off Main Street
3
Weekly offers @ The Star Bar, just off Main Street
Weekly offers @ Lord Nelson in Casemates
Live sports, weekly offers, happy hours & more at the Star Bar