18th October 2019 9:00 pm
Head on down to the Lordy on Friday 18th October for some LIVE music courtesy of Escape, starting at 9:00 PM!
Jam Session every Thursday & live music every Friday!
Reservations on 200 50009 or e-mail lordnelson@huntergroup.gi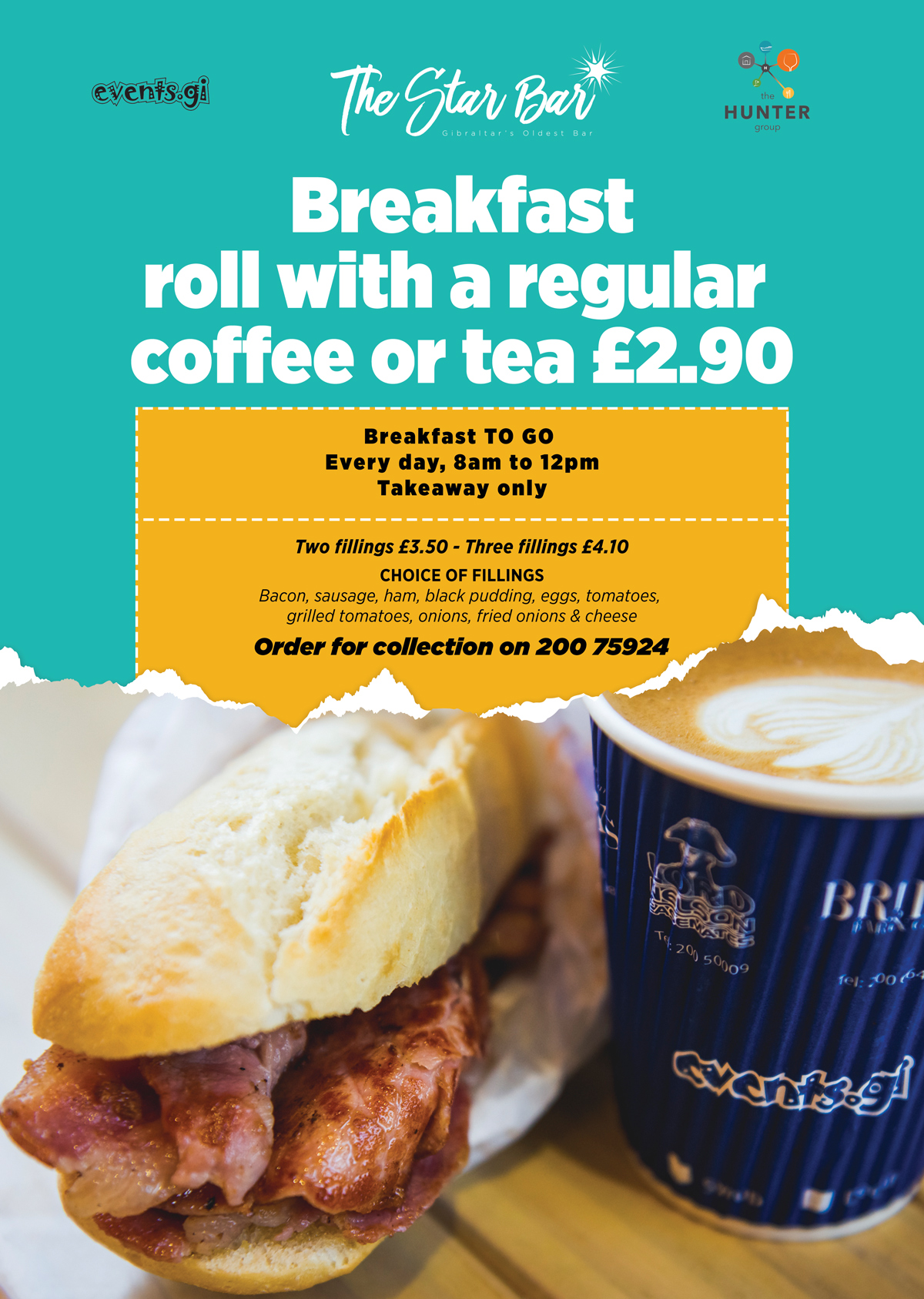 27th February 2020
All Day
Breakfast to go!

Simply order before leaving home, collect it on your way to the office & enjoy!

Call us on 200 75924
More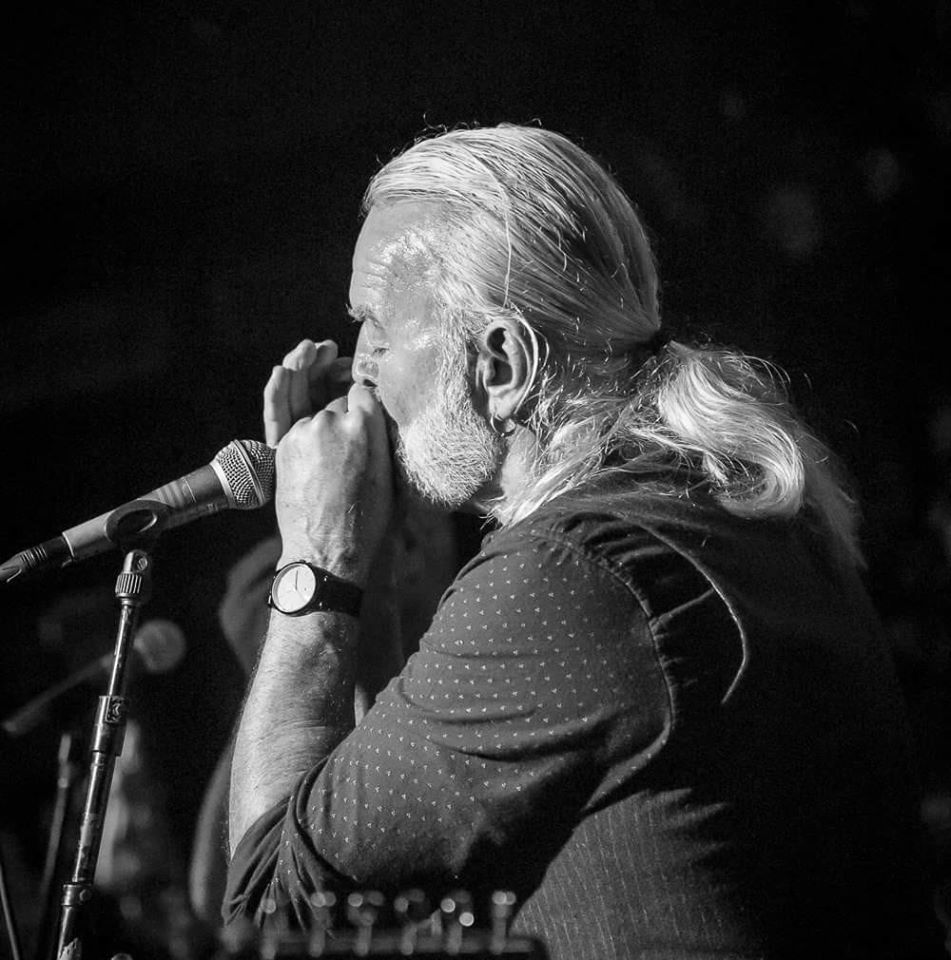 27th February 2020
9:00 pm
The famous Lord Nelson Jam Session. Every Thursday, starting 8PM!

Our Happy Hours are just before, between 5-7PM, so you might want to come early ...
More
4
Delicious food delivery deals every day at Gibraltar Arms!
Guinness Six Nations @ Lord Nelson in Casemates
FREE Parking when Dining at the Bridge Bar

All Day

Coffee & Roll Deal @ The Star Bar
5
Guinness Six Nations @ Lord Nelson in Casemates
FREE Parking when Dining at the Bridge Bar
Delicious food delivery deals every day at Gibraltar Arms!

All Day

Coffee & Roll Deal @ The Star Bar

12:00 pm

Sunday Lunch @ Bistro Point
4
Delicious food delivery deals every day at Gibraltar Arms!
Guinness Six Nations @ Lord Nelson in Casemates
FREE Parking when Dining at the Bridge Bar

All Day

Coffee & Roll Deal @ The Star Bar
4
FREE Parking when Dining at the Bridge Bar
Delicious food delivery deals every day at Gibraltar Arms!
Guinness Six Nations @ Lord Nelson in Casemates

All Day

Coffee & Roll Deal @ The Star Bar
4
Delicious food delivery deals every day at Gibraltar Arms!
FREE Parking when Dining at the Bridge Bar
Guinness Six Nations @ Lord Nelson in Casemates

All Day

Coffee & Roll Deal @ The Star Bar
5
Guinness Six Nations @ Lord Nelson in Casemates
Delicious food delivery deals every day at Gibraltar Arms!
FREE Parking when Dining at the Bridge Bar

All Day

Coffee & Roll Deal @ The Star Bar

9:00 pm

The Famous Jam Session @ Lord Nelson in Casemates Square
5
Delicious food delivery deals every day at Gibraltar Arms!
FREE Parking when Dining at the Bridge Bar
Guinness Six Nations @ Lord Nelson in Casemates

All Day

Coffee & Roll Deal @ The Star Bar

11:00 pm

Late Club Nights @ Bridge Bar in Ocean Village
6
Guinness Six Nations @ Lord Nelson in Casemates
FREE Parking when Dining at the Bridge Bar
Secret Heart Week across The Hunter Group establishments
Delicious food delivery deals every day at Gibraltar Arms!

All Day

Coffee & Roll Deal @ The Star Bar

11:00 pm

Late Club Nights @ Bridge Bar in Ocean Village
5
Delicious food delivery deals every day at Gibraltar Arms!
FREE Parking when Dining at the Bridge Bar
Guinness Six Nations @ Lord Nelson in Casemates

All Day

Coffee & Roll Deal @ The Star Bar

12:00 pm

Sunday Lunch @ Bistro Point
4
Delicious food delivery deals every day at Gibraltar Arms!
FREE Parking when Dining at the Bridge Bar
Guinness Six Nations @ Lord Nelson in Casemates

All Day

Coffee & Roll Deal @ The Star Bar
4
Delicious food delivery deals every day at Gibraltar Arms!
Guinness Six Nations @ Lord Nelson in Casemates
FREE Parking when Dining at the Bridge Bar

All Day

Coffee & Roll Deal @ The Star Bar
4
FREE Parking when Dining at the Bridge Bar
Guinness Six Nations @ Lord Nelson in Casemates
Delicious food delivery deals every day at Gibraltar Arms!

All Day

Coffee & Roll Deal @ The Star Bar
5
FREE Parking when Dining at the Bridge Bar
Guinness Six Nations @ Lord Nelson in Casemates
Delicious food delivery deals every day at Gibraltar Arms!

All Day

Coffee & Roll Deal @ The Star Bar

9:00 pm

The Famous Jam Session @ Lord Nelson in Casemates Square
9
FREE Parking when Dining at the Bridge Bar
Guinness Six Nations @ Lord Nelson in Casemates
Valentine's Day @ Jury's
Valentine's Day @ Bistro Point
Valentine's Day at the Bridge Bar in Ocean Village
Delicious food delivery deals every day at Gibraltar Arms!

All Day

Coffee & Roll Deal @ The Star Bar

8:00 pm

Not A Valentine's Party @ Lord Nelson in Casemates Square

11:00 pm

Late Club Nights @ Bridge Bar in Ocean Village
5
FREE Parking when Dining at the Bridge Bar
Guinness Six Nations @ Lord Nelson in Casemates
Delicious food delivery deals every day at Gibraltar Arms!

All Day

Coffee & Roll Deal @ The Star Bar

11:00 pm

Late Club Nights @ Bridge Bar in Ocean Village
5
FREE Parking when Dining at the Bridge Bar
Guinness Six Nations @ Lord Nelson in Casemates
Delicious food delivery deals every day at Gibraltar Arms!

All Day

Coffee & Roll Deal @ The Star Bar

12:00 pm

Sunday Lunch @ Bistro Point
4
Delicious food delivery deals every day at Gibraltar Arms!
FREE Parking when Dining at the Bridge Bar
Guinness Six Nations @ Lord Nelson in Casemates

All Day

Coffee & Roll Deal @ The Star Bar
4
FREE Parking when Dining at the Bridge Bar
Delicious food delivery deals every day at Gibraltar Arms!
Guinness Six Nations @ Lord Nelson in Casemates

All Day

Coffee & Roll Deal @ The Star Bar
4
Guinness Six Nations @ Lord Nelson in Casemates
Delicious food delivery deals every day at Gibraltar Arms!
FREE Parking when Dining at the Bridge Bar

All Day

Coffee & Roll Deal @ The Star Bar
5
Delicious food delivery deals every day at Gibraltar Arms!
FREE Parking when Dining at the Bridge Bar
Guinness Six Nations @ Lord Nelson in Casemates

All Day

Coffee & Roll Deal @ The Star Bar

9:00 pm

The Famous Jam Session @ Lord Nelson in Casemates Square
5
Delicious food delivery deals every day at Gibraltar Arms!
FREE Parking when Dining at the Bridge Bar
Guinness Six Nations @ Lord Nelson in Casemates

All Day

Coffee & Roll Deal @ The Star Bar

11:00 pm

Late Club Nights @ Bridge Bar in Ocean Village
5
Delicious food delivery deals every day at Gibraltar Arms!
Guinness Six Nations @ Lord Nelson in Casemates
FREE Parking when Dining at the Bridge Bar

All Day

Coffee & Roll Deal @ The Star Bar

11:00 pm

Late Club Nights @ Bridge Bar in Ocean Village
5
FREE Parking when Dining at the Bridge Bar
Delicious food delivery deals every day at Gibraltar Arms!
Guinness Six Nations @ Lord Nelson in Casemates

All Day

Coffee & Roll Deal @ The Star Bar

12:00 pm

Sunday Lunch @ Bistro Point
4
FREE Parking when Dining at the Bridge Bar
Delicious food delivery deals every day at Gibraltar Arms!
Guinness Six Nations @ Lord Nelson in Casemates

All Day

Coffee & Roll Deal @ The Star Bar
5
Pancake Day at the Hunter Group establishments!
FREE Parking when Dining at the Bridge Bar
Delicious food delivery deals every day at Gibraltar Arms!
Guinness Six Nations @ Lord Nelson in Casemates

All Day

Coffee & Roll Deal @ The Star Bar
4
FREE Parking when Dining at the Bridge Bar
Delicious food delivery deals every day at Gibraltar Arms!
Guinness Six Nations @ Lord Nelson in Casemates

All Day

Coffee & Roll Deal @ The Star Bar
6
Delicious food delivery deals every day at Gibraltar Arms!
Guinness Six Nations @ Lord Nelson in Casemates
FREE Parking when Dining at the Bridge Bar

7:00 am

Coffee & Roll Deal @ Gibraltar Arms

All Day

Coffee & Roll Deal @ The Star Bar

9:00 pm

The Famous Jam Session @ Lord Nelson in Casemates Square
5
FREE Parking when Dining at the Bridge Bar
Delicious food delivery deals every day at Gibraltar Arms!
Guinness Six Nations @ Lord Nelson in Casemates

8:00 pm

Northern Soul Night @ Lord Nelson in Casemates Square

11:00 pm

Late Club Nights @ Bridge Bar in Ocean Village
5
Delicious food delivery deals every day at Gibraltar Arms!
FREE Parking when Dining at the Bridge Bar
Guinness Six Nations @ Lord Nelson in Casemates

9:00 pm

KARAOKE Night at Lord Nelson in Casemates Square

11:00 pm

Late Club Nights @ Bridge Bar in Ocean Village