Starts in 2 Hours, 3 Minutes
26th May 2019 to 31st May 2019
San Miguel is the beer of the month! ?
5+1 FREE, get your stamp card with your first pint!
Joint promotion between Lord Nelson Bar Brasserie & O'Reilly's – Irish Pub – Gibraltar, available until 31st May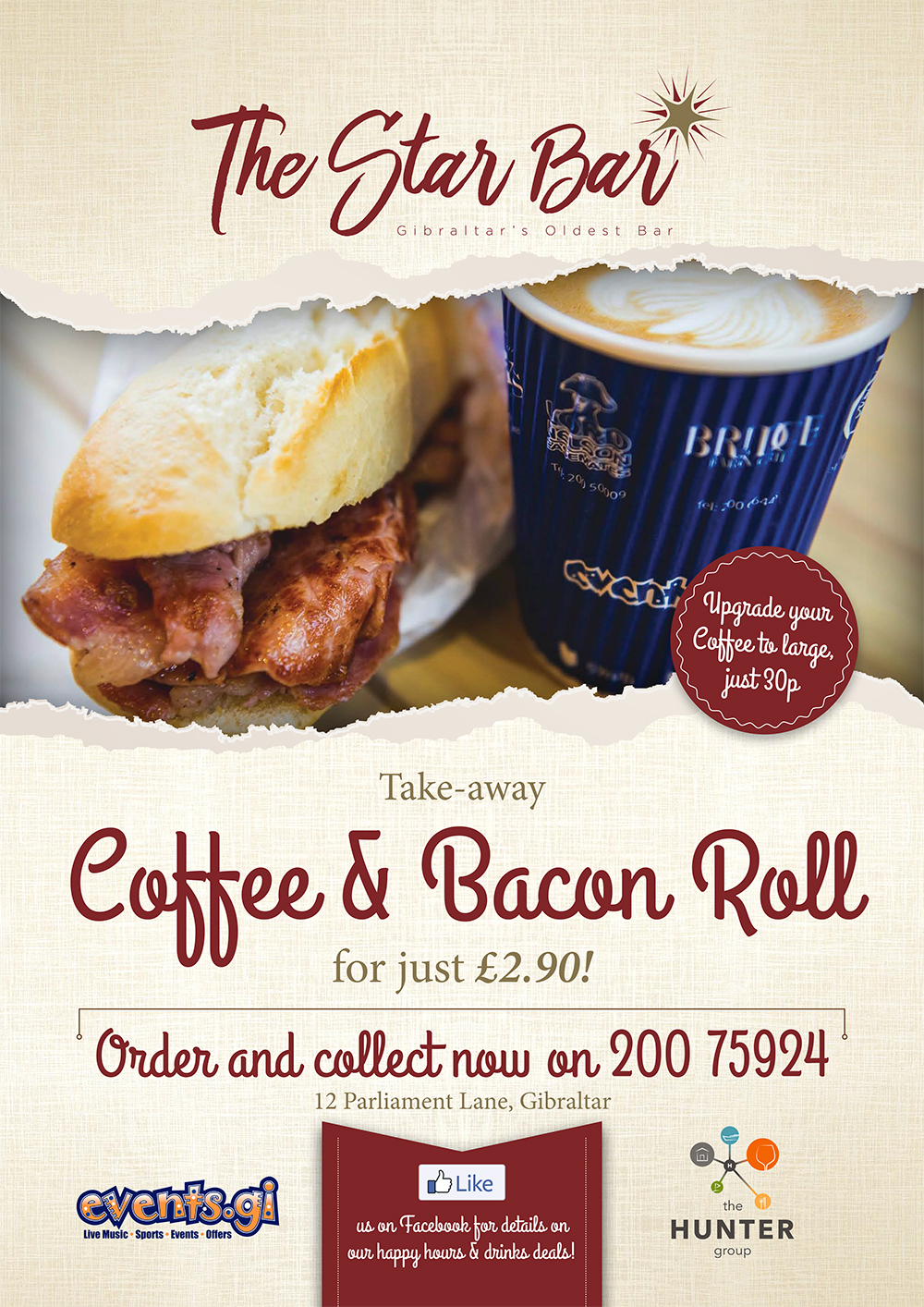 25th May 2019
All Day
Coffee & Roll Deal @ The Star Bar
More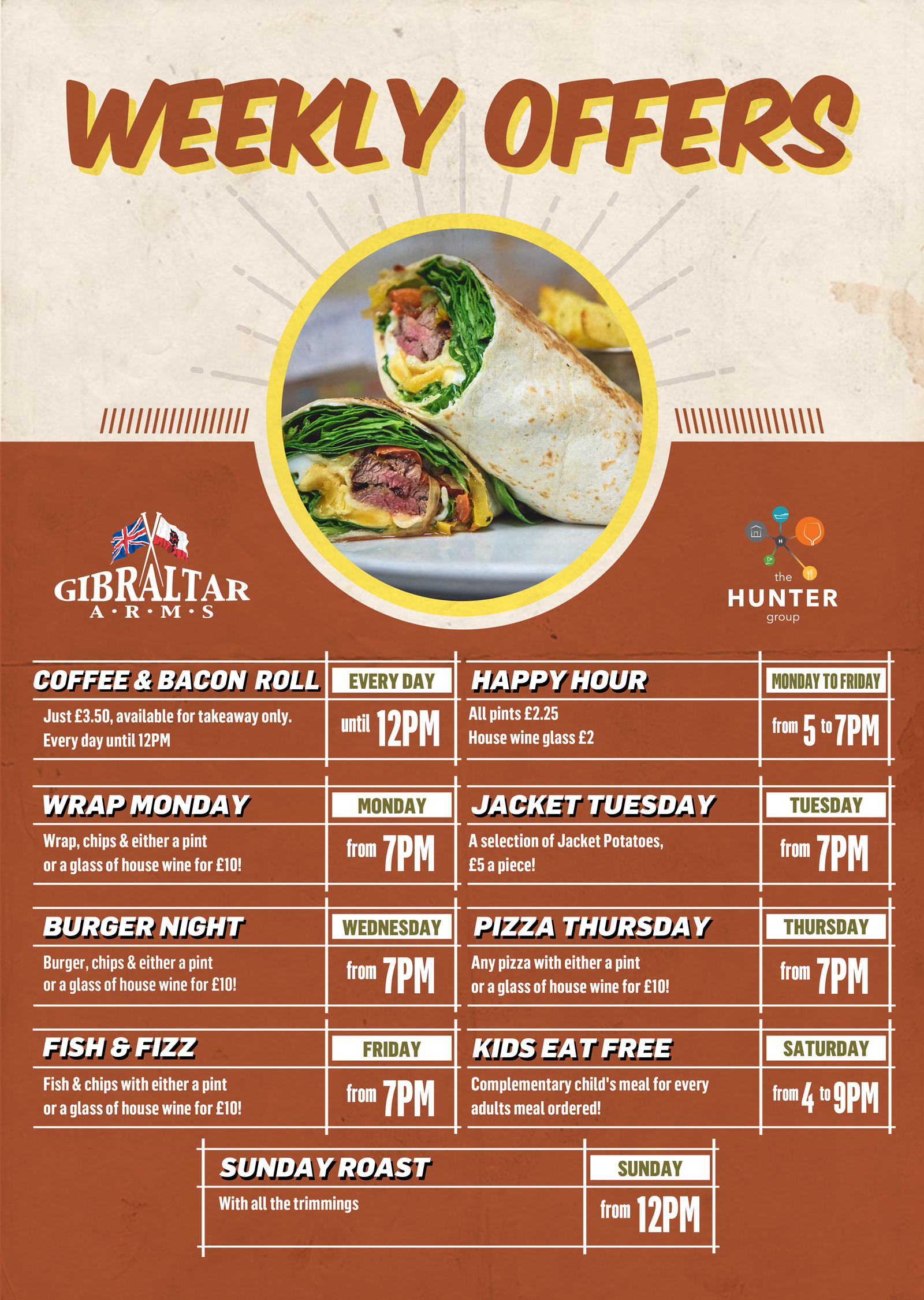 26th May 2019 to 1st June 2019
Located on Main Street, the traditional Gibraltar Arms welcomes you with great offers every day of the week!

Reservations on 200 75924 or e-mail ...
More
5
Weekly Offers at O'Reilly's
Weekly Offers at the Gibraltar Arms
Weekly Offers at the Star Bar
Weekly offers at Lord Nelson

All Day

Coffee & Roll Deal @ The Star Bar
6
Weekly Offers at O'Reilly's
Weekly Offers at the Star Bar

All Day

Coffee & Roll Deal @ The Star Bar
Weekly offers at Lord Nelson
Weekly Offers at the Gibraltar Arms

8:00 pm

The Jam Session @ Lord Nelson
5
Weekly Offers at the Star Bar
Weekly Offers at the Gibraltar Arms

All Day

Coffee & Roll Deal @ The Star Bar
Weekly Offers at O'Reilly's
Weekly offers at Lord Nelson
5
Weekly offers at Lord Nelson
Weekly Offers at O'Reilly's
Weekly Offers at the Star Bar

All Day

Coffee & Roll Deal @ The Star Bar
Weekly Offers at the Gibraltar Arms
6
All Day

Coffee & Roll Deal @ The Star Bar
Weekly offers at Lord Nelson
Weekly Offers at the Star Bar
Weekly Offers at the Gibraltar Arms
Weekly Offers at O'Reilly's

12:00 pm

Sunday Lunch @ Bistro Point
5
Weekly Offers at the Star Bar
Weekly offers at Lord Nelson
Weekly Offers at O'Reilly's
Weekly Offers at the Gibraltar Arms

All Day

Coffee & Roll Deal @ The Star Bar
5
Weekly Offers at O'Reilly's
Weekly Offers at the Star Bar
Weekly offers at Lord Nelson

All Day

Coffee & Roll Deal @ The Star Bar
Weekly Offers at the Gibraltar Arms
5
Weekly Offers at O'Reilly's
Weekly Offers at the Gibraltar Arms
Weekly Offers at the Star Bar
Weekly offers at Lord Nelson

All Day

Coffee & Roll Deal @ The Star Bar
7
Weekly Offers at the Gibraltar Arms
Beer of the Month @ Lord Nelson & O'Reilly's

All Day

Coffee & Roll Deal @ The Star Bar
Weekly Offers at O'Reilly's
Weekly offers at Lord Nelson
Weekly Offers at the Star Bar

8:00 pm

The Jam Session @ Lord Nelson
6
All Day

Coffee & Roll Deal @ The Star Bar
Weekly Offers at the Star Bar
Beer of the Month @ Lord Nelson & O'Reilly's
Weekly offers at Lord Nelson
Weekly Offers at O'Reilly's
Weekly Offers at the Gibraltar Arms
6
Weekly Offers at the Gibraltar Arms
Weekly offers at Lord Nelson
Weekly Offers at O'Reilly's

All Day

Coffee & Roll Deal @ The Star Bar
Beer of the Month @ Lord Nelson & O'Reilly's
Weekly Offers at the Star Bar
7
Weekly Offers at O'Reilly's
Weekly Offers at the Star Bar
Weekly Offers at the Gibraltar Arms
Weekly offers at Lord Nelson

All Day

Coffee & Roll Deal @ The Star Bar
Beer of the Month @ Lord Nelson & O'Reilly's

12:00 pm

Sunday Lunch @ Bistro Point
6
Beer of the Month @ Lord Nelson & O'Reilly's
Weekly Offers at the Gibraltar Arms

All Day

Coffee & Roll Deal @ The Star Bar
Weekly Offers at O'Reilly's
Weekly offers at Lord Nelson
Weekly Offers at the Star Bar
6
Beer of the Month @ Lord Nelson & O'Reilly's
Weekly offers at Lord Nelson
Weekly Offers at the Gibraltar Arms

All Day

Coffee & Roll Deal @ The Star Bar
Weekly Offers at O'Reilly's
Weekly Offers at the Star Bar
6
Weekly Offers at O'Reilly's
Weekly offers at Lord Nelson
Weekly Offers at the Gibraltar Arms
Weekly Offers at the Star Bar
Beer of the Month @ Lord Nelson & O'Reilly's

All Day

Coffee & Roll Deal @ The Star Bar
7
Weekly offers at Lord Nelson

All Day

Coffee & Roll Deal @ The Star Bar
Beer of the Month @ Lord Nelson & O'Reilly's
Weekly Offers at the Gibraltar Arms
Weekly Offers at the Star Bar
Weekly Offers at O'Reilly's

8:00 pm

The Jam Session @ Lord Nelson
6
Weekly offers at Lord Nelson

All Day

Coffee & Roll Deal @ The Star Bar
Beer of the Month @ Lord Nelson & O'Reilly's
Weekly Offers at O'Reilly's
Weekly Offers at the Star Bar
Weekly Offers at the Gibraltar Arms
6
Weekly Offers at the Gibraltar Arms

All Day

Coffee & Roll Deal @ The Star Bar
Beer of the Month @ Lord Nelson & O'Reilly's
Weekly offers at Lord Nelson
Weekly Offers at the Star Bar
Weekly Offers at O'Reilly's
7
All Day

Coffee & Roll Deal @ The Star Bar
Weekly Offers at the Gibraltar Arms
Weekly offers at Lord Nelson
Weekly Offers at the Star Bar
Weekly Offers at O'Reilly's
Beer of the Month @ Lord Nelson & O'Reilly's

12:00 pm

Sunday Lunch @ Bistro Point
6
Weekly Offers at the Star Bar
Beer of the Month @ Lord Nelson & O'Reilly's
Weekly Offers at O'Reilly's
Weekly Offers at the Gibraltar Arms

All Day

Coffee & Roll Deal @ The Star Bar
Weekly offers at Lord Nelson
6
Beer of the Month @ Lord Nelson & O'Reilly's
Weekly Offers at the Gibraltar Arms
Weekly offers at Lord Nelson
Weekly Offers at O'Reilly's

All Day

Coffee & Roll Deal @ The Star Bar
Weekly Offers at the Star Bar
6
All Day

Coffee & Roll Deal @ The Star Bar
Weekly Offers at the Star Bar
Beer of the Month @ Lord Nelson & O'Reilly's
Weekly offers at Lord Nelson
Weekly Offers at O'Reilly's
Weekly Offers at the Gibraltar Arms
7
Weekly Offers at the Gibraltar Arms
Weekly offers at Lord Nelson
Beer of the Month @ Lord Nelson & O'Reilly's
Weekly Offers at the Star Bar
Weekly Offers at O'Reilly's

All Day

Coffee & Roll Deal @ The Star Bar

8:00 pm

The Jam Session @ Lord Nelson
6
Beer of the Month @ Lord Nelson & O'Reilly's
Weekly Offers at the Gibraltar Arms
Weekly offers at Lord Nelson
Weekly Offers at O'Reilly's
Weekly Offers at the Star Bar

All Day

Coffee & Roll Deal @ The Star Bar
7
Weekly offers at Lord Nelson
Weekly Offers at O'Reilly's
Weekly Offers at the Gibraltar Arms
Weekly Offers at the Star Bar
Beer of the Month @ Lord Nelson & O'Reilly's

All Day

Coffee & Roll Deal @ The Star Bar

7:00 am

Coffee & Roll Deal @ Gibraltar Arms
6
Weekly Offers at O'Reilly's
Beer of the Month @ Lord Nelson & O'Reilly's
Weekly offers at Lord Nelson
Weekly Offers at the Gibraltar Arms
Weekly Offers at the Star Bar

12:00 pm

Sunday Lunch @ Bistro Point
5
Weekly Offers at the Gibraltar Arms
Beer of the Month @ Lord Nelson & O'Reilly's
Weekly Offers at O'Reilly's
Weekly offers at Lord Nelson
Weekly Offers at the Star Bar
5
Beer of the Month @ Lord Nelson & O'Reilly's
Weekly Offers at the Star Bar
Weekly Offers at O'Reilly's
Weekly offers at Lord Nelson
Weekly Offers at the Gibraltar Arms
5
Weekly offers at Lord Nelson
Weekly Offers at O'Reilly's
Weekly Offers at the Gibraltar Arms
Weekly Offers at the Star Bar
Beer of the Month @ Lord Nelson & O'Reilly's
6
Beer of the Month @ Lord Nelson & O'Reilly's
Weekly offers at Lord Nelson
Weekly Offers at O'Reilly's
Weekly Offers at the Gibraltar Arms
Weekly Offers at the Star Bar

8:00 pm

The Jam Session @ Lord Nelson
8
Beer of the Month @ Lord Nelson & O'Reilly's
Weekly Offers at the Gibraltar Arms
Weekly Offers at the Star Bar
Weekly offers at Lord Nelson
Weekly Offers at O'Reilly's

5:00 pm

Andy King LIVE @ O'Reilly's in Ocean Village

9:00 pm

Ray Frost LIVE @ Lord Nelson in Casemates

9:00 pm

Alice Reay LIVE @ O'Reilly's in Ocean Village